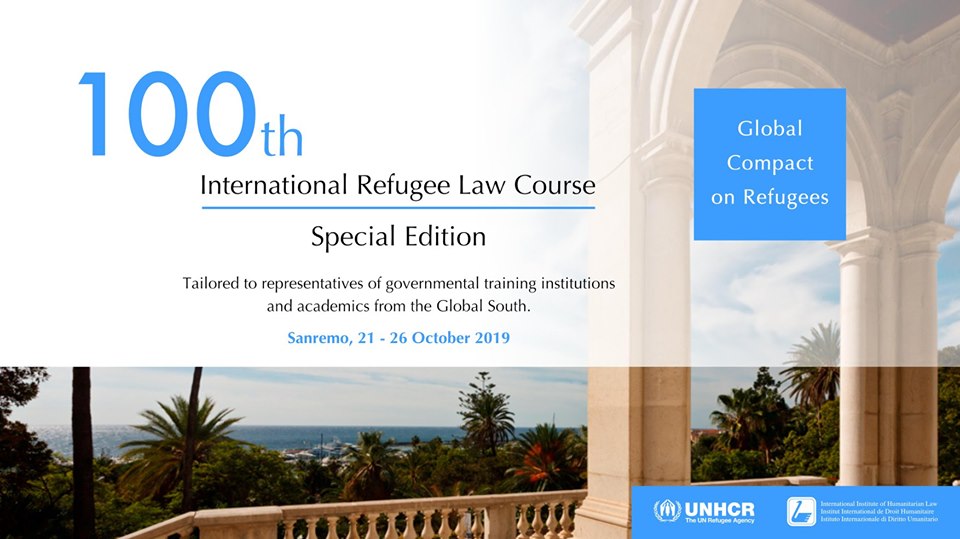 UNHCR/IIHL 100th International Refugee Law Course 2019 (Fully-funded)
Deadline: September 6, 2019
Applications are invited for the UNHCR/IIHL 100th International Refugee Law Course 2019 with a specific focus on the Global Compact on Refugees (GCR). The 100th Course is tailored and dedicated to representatives of national governmental training institutions and academics from the Global South.
The Course will cover the principles, objectives and programme of action set by the Global Compact on Refugees (GCR) and will allow participants to strengthen their teaching skills and capacity to develop training modules through sessions devoted to instructional design and learning methodologies. During the week, the curricula will focus on the key elements of refugee protection, ranging from the legal framework to refugee participation and solutions.
The Course strikes a balance between theory and practice and is delivered through a participatory and creative teaching methodology. Participants will be engaged in case studies, role plays, group discussions and simulations and will interact with practitioners and experts in the field of international protection.
Goals of the Course
The goals of the course are to:
Enhance the capacity of national governmental training institutions to embed the principles and areas in need of support of the GCR in their training programmes and modules;
Empower national governmental training officials and academics to:

Raise awareness on and advocate for the protection of refugees;
Enhance and develop sound and sustainable training programmes, in methodology and topics, in line with the GCR;
Ensure that their training programmes incorporate content conforming with the GCR;
Harmonize the training approach and areas of focus among national governmental training institutions.

Exchange of best practices and peer-to-peer support to enhance existing programme development and implementation mechanisms at the local level;
Identify areas of cooperation between national governmental training institutions at the regional level.
Eligibility
Open to Government officials working in training national institutions and academics from the Global South;
Applicants should have experience on refugee issues.
Application
For more information, visit UNHCR.