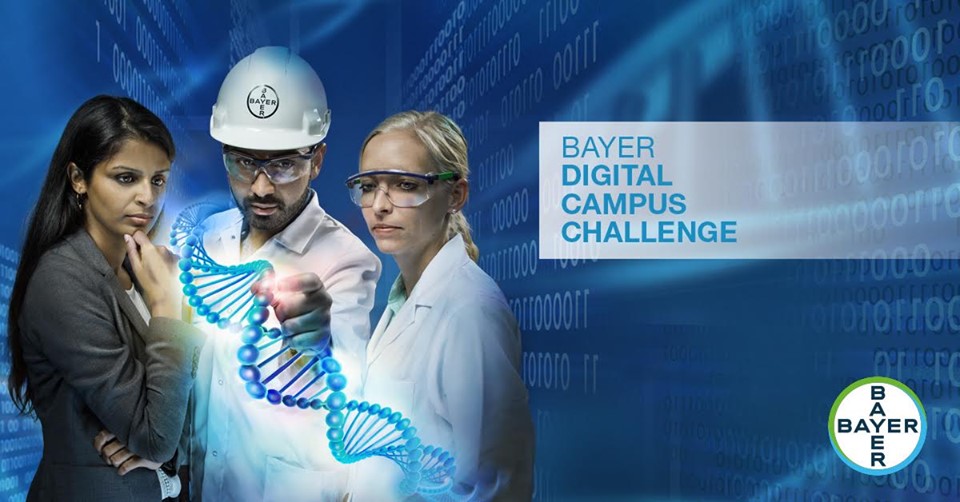 Bayer Digital Campus Challenge 2019 for Undergraduate Students (Pitch and win a trip to Berlin)
Deadline: November 10, 2019
Do you know how digital technologies can be used in healthcare to improve people's lives? Bayer wants to hear what you think. Apply for the Bayer Digital Campus Challenge 2019.
How digital will Bayer be in 2030? Digitalization is taking place everywhere and affects all of us. At Bayer, they ask themselves how they can capitalize on the opportunities that arise from digitalization. What effects do you think all these new digital technologies will have and how will Bayer change? And how can they be leveraged in the health business?
Take the opportunity to get noticed: Bayer may offer to purchase your invention! Now is your chance to discover new opportunities to harness the strengths of digital technologies, get to know Bayer from scratch and live our mission: "Science For A Better Life."
Thematic Areas
Your project may fit into one of the following categories:
Machine & Deep Learning: A particularly exciting subject is machine learning. The idea of cognitive artificial intelligence sounds simple yet revolutionary. However, its application at Bayer is proving to be more difficult than expected, and is not fully implemented at the present stage. Do you have an idea for a new use of machine learning in everyday work? Could machine learning perhaps improve data quality, automatic processes, or even flexible pricing strategies? Could machine learning enable real-time auditing, a development that would greatly simplify our day-to-day work? What ideas do you associate with Machine Learning and Bayer?
Data Science: Data Science and Artificial Intelligence are important research fields. Technologies in those fields are here to stay and will become more important in the years to come. How can Data Science and Artificial Intelligence transform the life science industries? How can they help shorten time to market for medicines, for example? Imagine the possibilities that combining the right data will bring to farmers, consumers, and patients. Give them your ideas and functional solutions in this research area. They are curious about how you see the future of Data Science at Bayer.
Cloud & Integration Computing: Everyone knows cloud applications from their personal lives already. Streaming movies, music, or storing pictures are everyday uses of the cloud. Complete IT landscapes are now moving to the cloud, which brings new challenges. How can different clouds be integrated so that they speak to each other? How are streams of data managed? How can end-to-end operation in decoupled systems be ensured? How can we make sure data is stored securely in the cloud? Show how cloud & integration computing technologies can be integrated into the IT landscape of a life science company and how end users can benefit from it. Do you have new ideas for the future of Cloud & Integration Computing?
IT Security: Almost every day, there is a news story about a data security breach at a big company. Data privacy and IT security are of utmost importance. Imagine the loss of reputation if a pharmaceutical company discloses sensitive patient data from a clinical study. Or imagine if financial statements, employee data, or research results are made public unintentionally. Think about which solutions can be implemented to increase security and tell us how IT security can be reimagined and built into the DNA of every system and process. In a nutshell: how will IT security change in the future?
Benefits
1st Prize winner will present the most convincing pitch and win a trip to Berlin
1st – 4th place winners will receive professional mentoring: A mentor will be assigned to each selected team. All mentors are experienced Bayer employees who will clarify technical questions, act as sparring partners to bounce ideas off, and prepare you and your team for the final pitch.
Get to know Bayer: Generating disruptive and groundbreaking ideas and networking with peers and experienced partners – you will get to know people working at Bayer and gain experience working with Bayer.
Eligibility
Open to any person currently enrolled in higher education or anyone who has graduated from an institution of higher education within the last year;
Applicants should be any person of legal age;
Applications can come from anywhere around the world.
The Participant must have a computer to access the Challenge. The minimum configurations and devices are:

Processor 1 GHz or higher with 1 Go RAM or higher;
1024 x 768 pixel screen definition with 65,536 colors;
operating system: Windows XP and Vista;
A browser that accepts cookies and Javascript function execution: Internet Explorer 7 or higher, or Firefox 3.5 are recommended;
Flash Player version 9.045;
A sound card is recommended, but not required.
Application
For more information, visit Bayer Digital Campus Challenge.