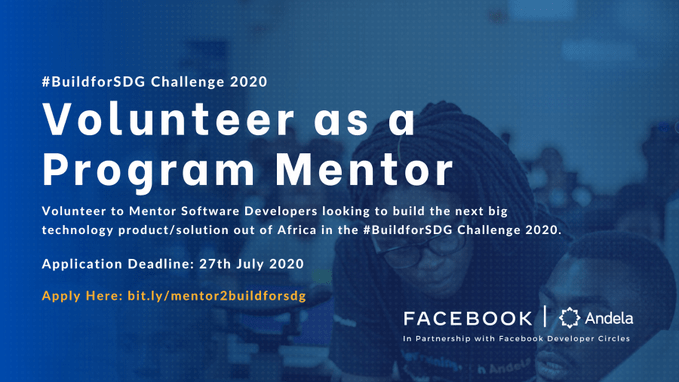 Be a Mentor for the Facebook Developer Circle and Andela #BuildForSDG Challenge Program 2020
Deadline: July 27, 2020
Apply to be a Mentor for the Developer Circle and Andela #BuildForSDG Challenge Program 2020. Facebook and Andela have partnered to up-skill developers across Africa through a seven-week immersive program where selected developers will work as individuals or in agile remote teams to innovate on industry projects.
The goal of the #BuildforSDG Challenge 2020 Program still is to empower developers to build global, high-value, high-impacts to help improve their market readiness while learning within the community.
They believe in the power of working as a community and as a community they are looking for mentors to join them in supporting/mentoring innovators who will be building the next big technology offering out of Africa through the #BuildforSDG Challenge 2020 Cohort 2 program.
Role As a Mentor
Guide and unblock Innovators in the program towards building their finished and functional product.
Review their code and share feedback.
Share career advancement tips and hacks.
Host office hours with Innovators to see that they complete their projects.
Motivate Innovators to ensure 100% program completion.
During program, you will be receiving administrative support and oversight from designated Program Assistants (PAs) in charge of your region or city. More importantly, the Andela Talent Partnerships Team is ultimately responsible for managing the volunteer community. This implies that even when programs are not running, there will be deliberate arrangements to keep their volunteers engaged and supported.
Benefits
For this program they prioritise growth opportunities and non-monetary incentives over financial rewards. They will be offering incentives and benefits where necessary on a programme-specific basis. These incentives include but are not restricted to:
Access to curriculum / course content on online learning platforms;
First hand information on employment opportunities through the Andela Talent Marketplace;
Recommendations and referrals available on request;
Certificate of Participation;
Profile building coaching sessions.
Eligibility
Open to engineers skilled in one or more languages/stacks/frameworks in any focus areas: Web, Mobile, Cloud and DevOps.
You are eligible to apply if you are proficient in any of JavaScript, Python, Ruby, PHP, Elixir, Golang, Rust, React, Angular, Vue, Flutter, Java, React Native, Swift, AWS, Azure, GCP, Docker, Kubernetes, Jenkins, etc.
Additionally,
You should have an attitude of a go-getter plus be really great at motivating;
Be an advocate of Integrity/Innovation and of course the tech-ecosystem;
Awesome Collaborator;
Available to commit 4+ a week towards mentoring Innovators;
Great communicator of feedback.
Application
For more information, visit #BuildForSDG Mentor.