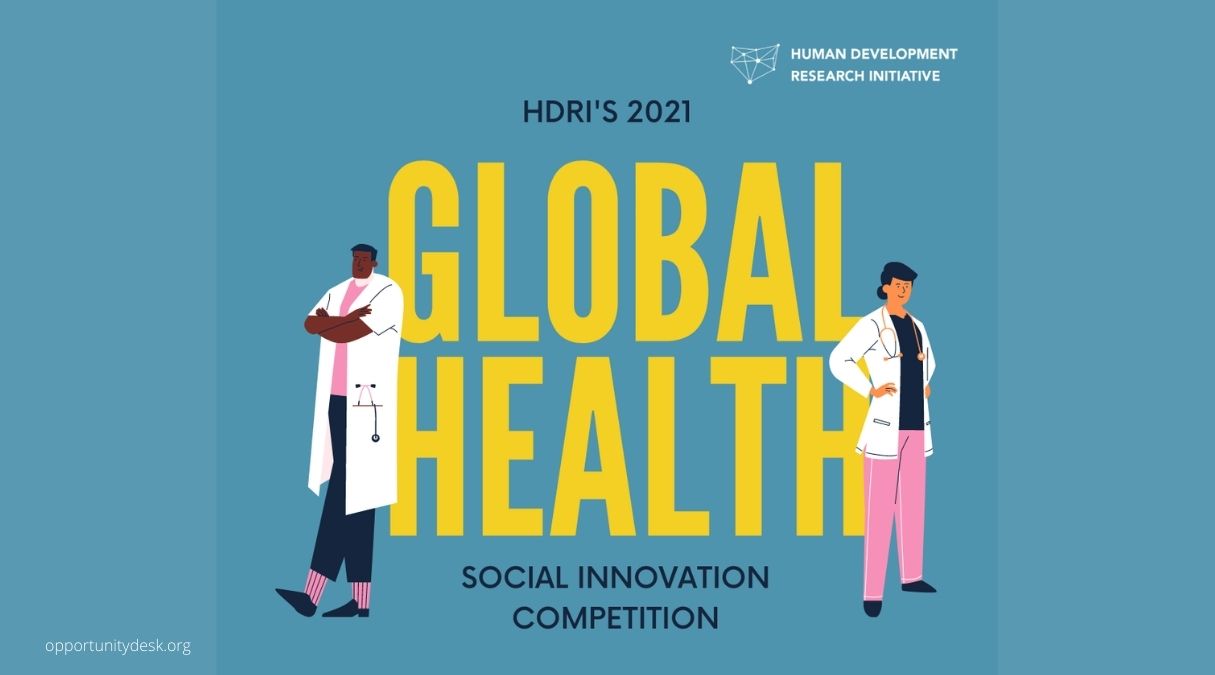 Human Development Research Initiative (HDRI) Social Innovation Competition 2021
Deadline: April 2, 2021
Entries are open for the Human Development Research Initiative (HDRI) Social Innovation Competition 2021. The Social Innovation Competition is an annual event encouraging students to create and develop innovative solutions for global problems. This year's theme is Global Health. During the competition, students will receive support from international mentors on taking their proposal to the next level!
HDRI aims at reimagining development and at discovering new pathways for a just and sustainable future based on research and advocacy. Following the quest to 'leave no one behind', HDRI is dedicated to align its work with the Agenda 2030 and to contribute to the achievement of the Sustainable Development Goals. They wish to base the action-plan of our event on the collaboration between Organisations and NGOs in order to provide our students with a holistic experience from experts and practitioners, and prepare them to become the policy makers and innovators of tomorrow.
Benefits
The winning proposal will be features on HDRI's website and our partners' websites (over 10K visits monthly)
Workshops with experts on pitching, innovation & design thinking
Free Masterclasses and Trainings on Social Innovation and Social Entrepreneurship
Eligibility
Open to all students (undergraduate/graduate/PHD) from all universities in any faculty
Team can go up to 5 students. Single entries are permitted, but team registration is encouraged.
Evaluation Criteria
Clarity, well written and researched, originality
The final project will be assessed based on its clarity, relevance and the thoroughness of the research.
The originality of the paper is also imperative.
The evaluators will take into account the following criteria in your projects:
Relevancy: the degree to which the proposal of your project is compatible with the needs of the environmental issues in the geographical area you have chosen.
Efficiency: an assessment of the achievability of the project from an economic and funding point of view
Effects: long term and short term effects, how your intervention might possibly impact the environmental problem
Practicability: if the idea could actually be implemented
Application
Please register your teams on the "Social Innovation Competition" google form available here prior to submitting your proposal in order to receive the full guidelines. 
Proposals must be submitted by email ([email protected]) before 11:59 pm on April 2nd, 2021. 
Click here to apply.
For more information, visit HDRI Social Innovation Competition.