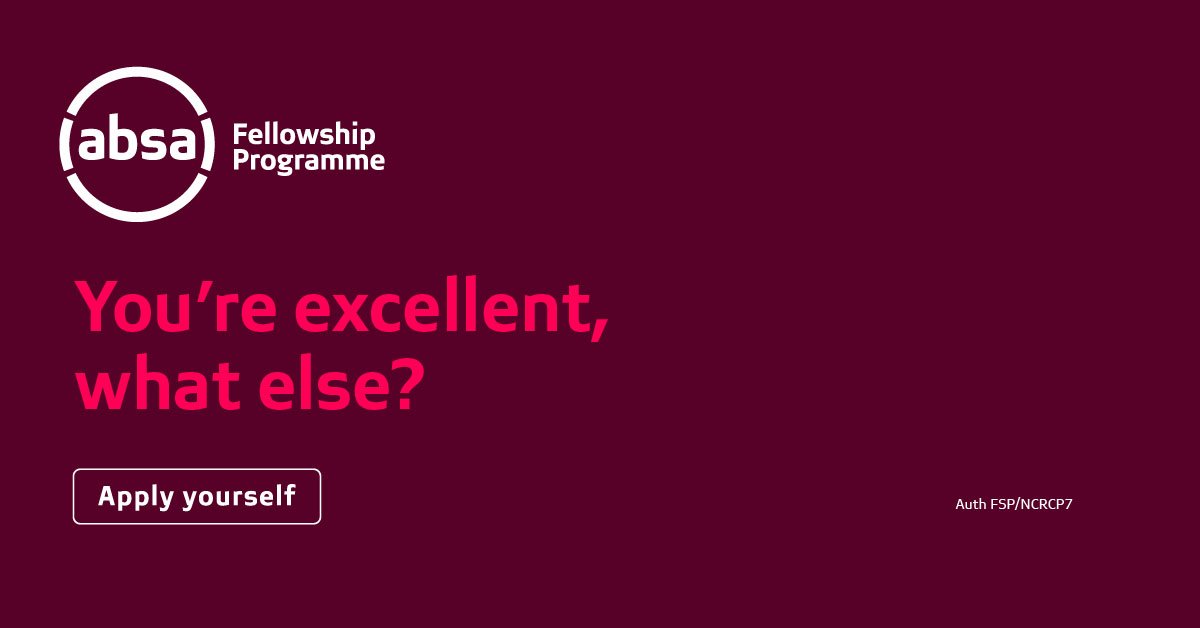 Absa Fellowship Programme 2021 for Young African Leaders
Deadline: Unspecified
Applications for the Absa Fellowship Programme 2021 are now open. They are looking for brave and passionate African leaders to go beyond the standards of what is attainable, to move humanity forward in ways that have not been discovered yet, to reframe, reimagine and reshape society.
The aim of the Absa Fellowship Programme is to develop and equip the Fellowship recipient with the critical competency skillsets that future leaders will require to achieve institutional and transformational impact, both in business, communities, countries and the African continent.
The overall Leadership Development Programme will ensure that, on completion, the scholarship recipient will not only have an academic degree, but also a pivotal network of peers. They will have built an understanding of their authentic selves, developed a deep sense of community citizenship and a deep sense of their own creativity, as well as the capacity to effect the changes that they desire, with an understanding of the African context and the possibilities therein.
Benefits
The Absa Fellowship Programme is much more than an ordinary scholarship or bursary initiative. While successful candidates will receive financial support towards their academic studies, they are expected to actively participate in a specially curated leadership development programme created by Absa.
The following will be covered:
Academic costs

Full tuition
Accommodation
Laptop
Textbooks & Educational equipment
Monthly stipend
Meal allowance

Leadership programme

Travel (if required)
Learner modules and guides
Online lectures and assessments
Emotional wellness check-in sessions, academic tutoring and mentoring
Eligibility
Applicant must be a catalyst for change from one of the following countries: Seychelles, South Africa, Mozambique, Tanzania, Botswana, Kenya, Zambia, Uganda, Mauritius, Ghana.
Be brave and ready to embrace possibility;
Ethical and socially conscious;
Studying towards an undergraduate degree in:

Science
Technology
Engineering
Creative Arts
Mathematics
Humanities (Social Sciences)
Digital/Data Design

A strong student with a matric average of 65% or more;
Between the age of 18 and 25 years;
Entering the first year of tertiary studies, with provisional or full acceptance from Absa's pre-selected universities:

University of Johannesburg
University of the Witwatersrand
University of Pretoria
University of Kwa-ZuluNatal
University of Cape Town
University of Stellenbosch
Application
Applicants need to apply online.
Applicants need to ensure that the application form is filled out correctly, in full and in English.
All necessary documents are to be uploaded. You will not be able to complete the application process if mandatory documents are not uploaded.
For more information, see FAQ and visit Absa Fellowship.