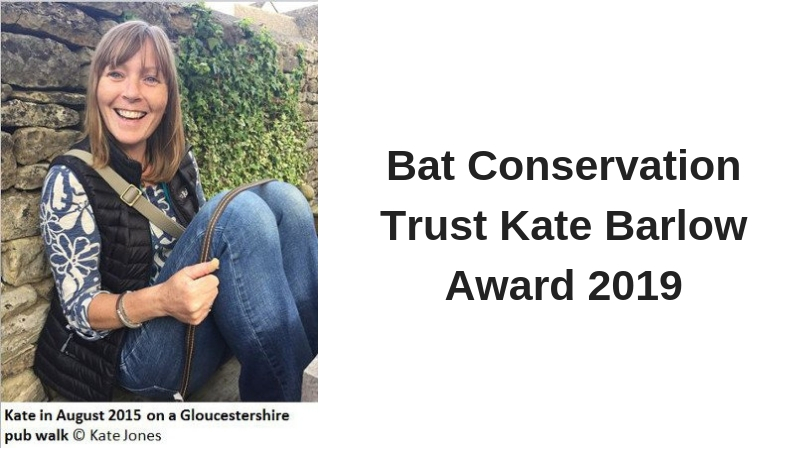 Bat Conservation Trust Kate Barlow Award 2019 (Up to £4,500)
Deadline: December 3, 2018
Applications for the Kate Barlow Award are now open. The aim of this award is to encourage the next generation of bat researchers by a substantive contribution towards the research costs of postgraduate students undertaking research that will benefit bat conservation.
The Kate Barlow Award was established in the memory of Dr Kate Barlow, former Head of Monitoring with the Bat Conservation Trust, who died in 2015. Kate Barlow was a leading figure in wildlife conservation, a passionate advocate for bats and bat conservation worldwide, and a lover of adventure.
Award
One award of up to £4,500 will be made, towards the costs of a bat research project of no less than 4 months duration. The funds must be used towards research costs (e.g. consumables, travel) and cannot be used as a student stipend or to pay University fees or overheads;
In addition BCT will pay for the award winner to attend either the BCT National Bat Conference or another relevant bat research and conservation conference.
Eligibility
Open to postgraduate students anywhere in the world conducting research which has a direct relevance for bat conservation;
The proposed project must be part of a Masters or PhD programme and the student must be registered at an academic institution;
The project must be a minimum of 4 months (full-time) in duration;
The proposal must be written by the applicant who will personally conduct the research;
All funded projects must begin no later than 6 months following the date of the award;
Applicants cannot reapply if they have been successful in previous years;
Successful applicants must supply a report(s) and relevant photographs of the research progress. Brief annual reports are required for projects lasting more than one year; the final report should be submitted within 3 years following the date of the award.
Evaluation Criteria
Proposed projects must meet the following criteria:
Have direct relevance for bat conservation
Be feasible within the proposed time frame
Be cost-effective
Application
To apply, a completed application form together with two letters of recommendation should be emailed to Dr Katherine Boughey at [email protected] with the subject: 'Kate Barlow Award'.
Click here to download the application form and guidance note.
For more information, visit Kate Barlow Award.