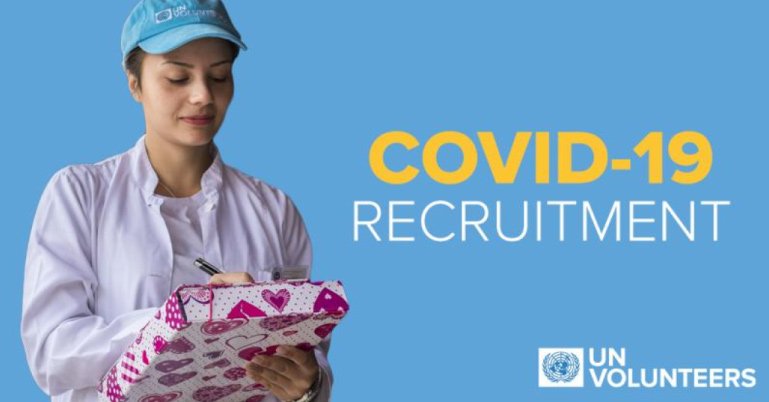 Call for Applications: United Nations Volunteers for Novel Coronavirus (COVID-19) Pandemic Response
Deadline: Unspecified
Apply to join the United Nations Volunteers for Novel Coronavirus (COVID-19) Pandemic Response. The Novel Coronavirus disease (COVID-19) pandemic is placing significant strains on health systems, essential public services and communities globally.
UN entities are working closely with national governments, community groups, the health sector and industry to respond to this crisis with a multi-sectoral, equitable and human-rights focused approach.
UNV invites skilled professionals to support the UN system's response as national UN Volunteers. Join efforts to mitigate the economic, social and health impacts of this crisis, and to safeguard progress made towards achieving the Sustainable Development Goals. International UN Volunteers may telecommute or be deployed once travel restrictions are lifted.
Benefits
Volunteers will receive monthly living allowance to cover housing, basic needs and utilities; settling-in-grant; life, health and permanent disability insurance; return airfares (if applicable).
Eligiblity
Candidates need to
Have at least two years of professional experience,
Be at least 22 years old for national UN Volunteer assignments, and at least 25 years old for international UN Volunteer assignments.
Application
If you have qualifications and experience in any of the following areas, you are encouraged you to register (or update your profile) on UNV's web application system and enter COVID-19 as a keyword in your 'Motivation Statement':
Health systems (epidemiologists, public health, health statisticians)
Health supply chain (pharmacists, equipment, cold chain)
Medical (medical officers, doctors, nurses, lab technicians)
Medical waste management
WASH (with a focus on hygiene)
Surveillance
Psychosocial support (counselling)
Logistics
Procurement
Emergency management and coordination
Socio-economic & health assessment
Gender based violence
Anthropologists/sociologists
Communications (incl. communications for development, communications in emergencies)
Information management/Data analysis
Monitoring & evaluation (ideally related to health and/or emergencies), and Reporting
Child protection
Livelihoods
Economic development
For more information, visit UN Volunteers.